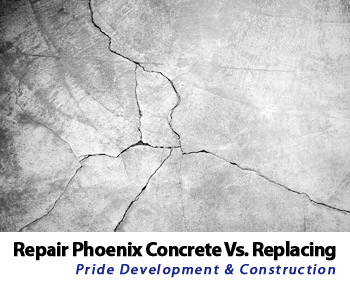 An ancient proverb says, "Insults should be written in sand, compliments should be carved in stone."
Cracked and damaged concrete and stone can be an insult to the eye, but the thought of a costly project can be an even heavier burden. Unfortunately, ignoring the problem of cracked concrete and structures can result in dangerous and costly repercussions.
If you have cracked concrete you may be asking yourself the following questions?
Can this concrete be repaired?
Does the offending cement need to be jack-hammered out, hauled away and replaced?
A Phoenix structural engineer is your best expert to make this determination, but here are a few ideas to consider. Until about 10 years ago the preferred solution for damaged concrete was to have it replaced.
Changing economic considerations, better repair products and a desire to have a greener building environment with less rubble filling the land fill has caused the building community to rethink old solutions.
The first consideration, and the most important, is safety. If the concrete has spalling (where you see exposed aggregate on a concrete structure) it is more likely the Phoenix concrete will need to be replaced.
Concrete does wear out over time. Even in the Phoenix area where temperatures rarely fall below freezing and salt is not used to melt snow and ice, concrete erodes. Some decay is from natural causes such as time, wear and temperature. However, some deterioration can happen ahead of schedule due to improper installation. No matter what the reason, it is best to call in a professional and get an informed evaluation.
Some concrete may be chipped and worn. Over time concrete will show signs of wear and break down. However, there are new products on the market that can restore the surface so that it is both structurally sound and esthetically pleasing. This can often be done at a fraction of the cost of replacing the old structure. Again, a structural engineer is your best source of information. The same is true with cracking and breaking. Some repairs are difficult to evaluate without coming to the site and seeing the damage first hand.
Another consideration when deciding whether to repair or replace is the amount of material needed.
If a Phoenix concrete repair needs more than two inches of material it is better to replace it. If less than two inches of material is needed, a repair with high-quality products could be a safe and fast solution that is still aesthetically pleasing.
However, repairs aren't always an option. If a subbase is eroded, the concrete section will need to be removed and a new subbase installed. Again, a PHX structural engineer can provide an honest assessment of the situation. It's not always gloom and doom. There are times when the old concrete can remain in place and a concrete resurfacer can be applied. This is a safe and cost effective alternative, but the evaluation should be left to a professional who can properly access the situation. Quick fixes done by a thrifty do-it-yourselfer can result in more costly repairs down the road, safety infractions and even an expensive lawsuit.
When in doubt, call in a professional. Few things are harder to fix than mistakes made with cement.
Insults may be better drawn in the sand, but when it comes to safety, aesthetics and structural integrity, it is better to consult a professional so you don't cast an expensive mistake in stone.
Pride Development and Construction is a full-service Phoenix general contractor specializing in all aspects of commercial and industrial contracting. PDC is a NACE certified employer committed to quality control in all aspects of construction and engineering. The company specializes in all aspects of specialty coatings including epoxies, fire proofing, polyureas/hybrid polyreas, plastic welding of all types, as well as water proofing. At PDC pride is not only a name, it's how they do business.
Published By: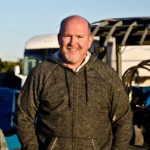 Pride Development and Construction – Bob Jenkins
3027 South 45th Street
Phoenix, AZ 85040
Office: (480) 968-6848
Email: bob@pridedc.net
Website: https://pridedevelopment.net